Twenty-seven rose societies make up the Northern California-Nevada-Hawaii District of the American Rose Society. We have over 2100 members, almost 200 Consulting Rosarians, 13 Rose Arrangement Judges and 60 Horticulture Judges. The Northern California-Nevada-Hawaii District is a Benefactor Patron of the American Rose Society.
Our local societies serve members located from the top of Northern California to the southern reaches of Fresno, California - all of the Reno, Nevada area - all of the Hawaiian Islands.
To learn more about our history:
Who We Are - Where We Are Located Announcements:
Awarded at the NCNH District Fall Conference 10/11/14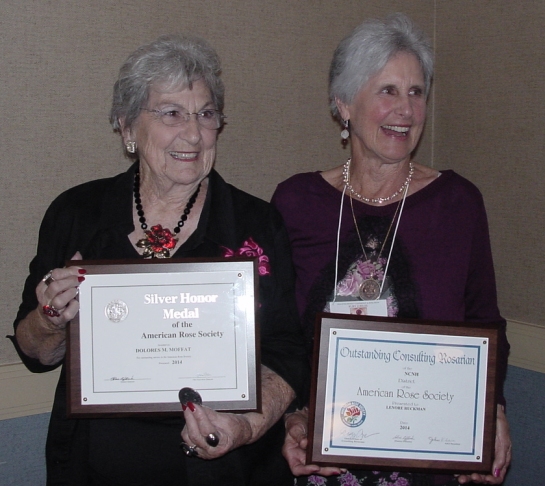 Dolores Moffat:
District Silver Honor Medal
Lenore Ruckman:
District Outstanding Consulting Rosarian
Sandy Parker (not shown):
District Outstanding Horticulture Judge
---

Congratulations to Editors Ted & Linda Burg for winning the 1997, 1999, 2001, 2004, 2005, 2006, 2007, 2009, 2010, 2011 and 2012 American Rose Society Gold Medal Award for the NCNH District Bulletin, The Criterion! To subscribe, click here
---

Upcoming Events
March 14, 2015 9:00 a.m. NCNH District Spring Business Meeting. Hosted by Gold Country Rose Society, Bell Road Baptist Church, 707 Bell Road, Auburn, CA. Following lunch, there will be a one hour Consulting Rosarian Seminar on "Compost Tea" presented by Kevin Marini, UC Master Gardener. Discounted hotel rates available at Best Western, Auburn. Contact Dave Coop for more information.
Click here for driving directions and hotel information.

April 18-19, 2015 Horticulture Judging School. Hosted by North Bay Rose Society at the Norman King Community Center, 545 Magazine St., Vallejo, CA. Contact Bob Parker for more information. Click here for registration form.
---